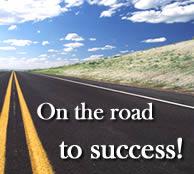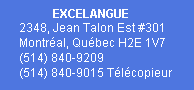 service@excelangue.com
Private language School
Conversation course
English - French - Spanish
Private classes – All languages

Learn rapidly ! Private classes are the best way to get personalized attention and learn specific abilities, or if you have a busy life. Flexible schedules !

Semi-private classes (2-3 people) French, English Spanish.

Ideal for busy people. Daytime schedules available. – Improve your skills working with one or two partners and a professional teacher. 30% theory, 70% practice. Flexible schedules and curriculi. New courses every two weeks.

Courses in small groups (4-6 people) French, English, Spanish.

Learn in the company of others! – Well-structured program focused on oral communication. 30% théory, 70% practice. Customizable content. Stimulating activities and role-plays for serious learning.


Intensive courses (4-6 personnes), French English

For focused people. 20/25/30 hours of class per week. This « linguistic marathon » is the best way to improve FAST and get ready for the real world !


Copyright © 2002 Excelangue, all right reserved.